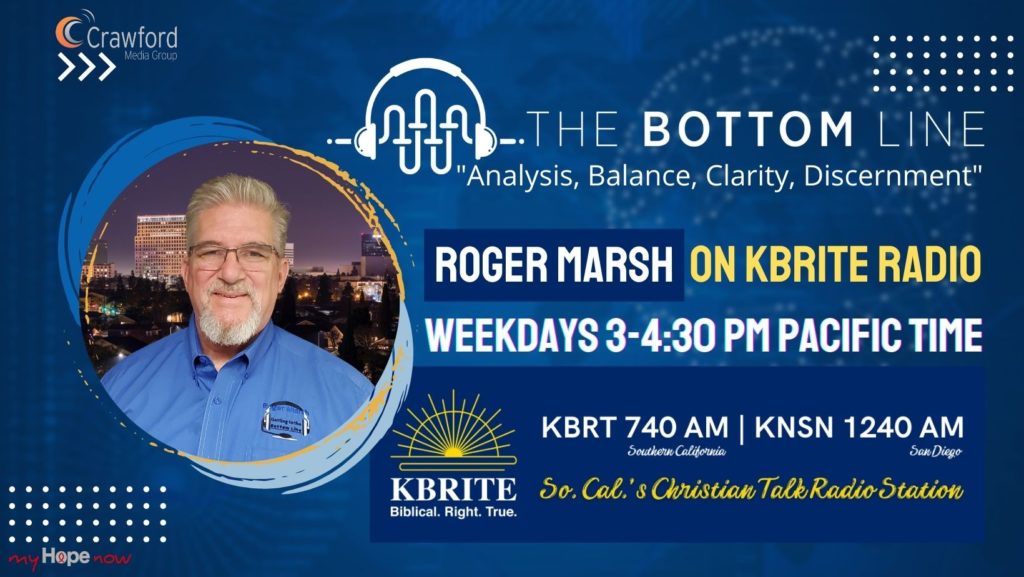 Get your daily dose of current events with a Biblical World View. Host Roger Marsh takes current events and brings them down to the bottom line. No opinionated spins…just the facts with solid focus on truth while staying away from over-sensationalized opinions.
Roger is a lifelong Southern California resident who tends to lean more on the conservative side of the political equation, but is open to thoughtful (wise) and respectful (considerate) debate.
There's so much in the media about all of the problems in the world today; "The Bottom Line" is about solutions. This isn't a question of "Us vs. Them" anymore. "The Bottom Line" features informative, topical and thought-provoking conversation to help listeners get a better understanding of why you believe what you believe, and how to live out that faith to help others.
You can listen to "The Bottom Line" on KBRITE 740-AM and 1240-AM everyday at 3:00 pm.  He's also on Central & Northern California, Dallas & Denver
VISIT THE BOTTOM LINE WEB SITE
ABOUT ROGER
Roger Marsh is a pastor, author and veteran of more than 35 years of broadcasting. Roger is an ordained minister and graduated from the Niagara Lutheran Theological Institute after completing undergraduate studies in Business Administration at Cal State Fullerton and Business Management at Azusa Pacific University. He is co-author of the book, Internet Protect Your Kids and has traveled extensively throughout the U.S. speaking to parents about youth and family issues. Roger has been blessed with two daughters, one son, two sons-in-law and one amazing grandson. In addition to his work in the broadcast industry, he also serves as an Assistant Pastor at Lutheran Church of the Cross in Southern California, where he makes his home with his wife, Lisa.
In addition to hosting "The Bottom Line" for KBRT, he also serves as the studio co-host for Dr. James Dobson's Family Talk and has worked as a staff announcer for the FOX television network for nearly 30 years.
Ultrasounds Save Lives
Save Five Babies Today!
Your gift of $140 provides a free ultrasound session for five young women in unplanned pregnancies.
80% of these women will choose life when they see the ultrasound image of their babies.
With your gift, you will receive the story of a mom who chose life as well as the ultrasound image of her precious baby.
CLICK HERE: PREBORN – SAVE BABIES AND SOULS