WHO WE ARE
KBRITE is the Southland's longest standing Christian radio station. Our teaching and talk programs consistently honor God and Country and have taught the five-county region, comprised of tens of millions of people, about our Lord, Jesus Christ, for more than 40 years. AM-740 (and AM-1240 in San Diego) educates, motivates, and activates our listening family with many of the nation's best Bible teachers who are categorically strong in the Word; offer Godly encouragement; answer Biblical questions; and examine current events from a Christian worldview. KBRITE is God's station and your first source for current, Christian enlightenment and edification.
A FAMILY HISTORY
We see our call for the future partly in the roots of its past.  Pioneer Christian broadcaster Percy Crawford brought the gospel to millions in the 30s and 40s on radio and TV – including a top-rated evangelism-oriented program on NBC.  However, in the 50's Percy Crawford watched as more and more ministries were denied access to network airtime.  Seeing the writing on the wall, he began Crawford Broadcasting to buy his own stations to continue preaching the Gospel without interference or censure.  KBRITE was added to the Crawford Broadcasting family in 1980 to offer God and Country-honoring programming into Los Angeles, Orange County, San Diego, and the Inland Empire.  In 2014, we added AM 1240 to the family, reaching an even broader section of San Diego.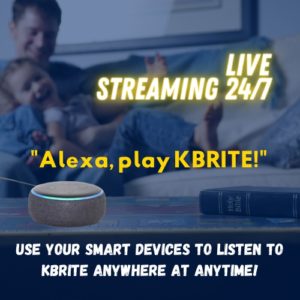 ALEXA, PLAY KBRITE
To enable our Alexa skills: (1.) Go to the menu and select Skills. Or, go to the "K BRITE" skill in the Alexa Skills store on the Amazon website, or click here. (2.) Select it to open the skill detail page. (3.) Select the Enable Skill option. (4.) Now, say one of the following to Alexa, "Alexa, open K BRITE", or "Alexa, play K BRITE", or "Alexa, ask K BRITE to play the live stream". And enjoy listening to K BRITE on your Alexa.
Use your smart phone to listen to the KBRITE Radio mobile app
The free KBRITE Radio mobile app features include program schedule, alarm, call the station, advertising information, 'Open Mic' to record a message to the hosts, podcasts and more! Available for free on Apple and Android stores.
KBRITE COVERAGE MAPS