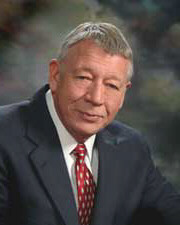 Sunday -- 09:30 AM - 10:00 AM / 09:30 PM - 10:00 PM
Christian Educational Ministries (CEM) was founded in November 1995 by Ron and Allie Dart as an independent, nondenominational ministry to serve the public and individual Christians of every kind through the ministry of Ronald L. Dart.
Mr. Dart, an ordained minister and evangelist, has served God through hundreds of sermons, broadcasts, Bible studies, and books. His messages and printed material bring clarity and simplicity to topics that could otherwise be cumbersome.
CEM promotes Ron Dart's radio ministry, Born to Win, which is heard from coast to coast. His clear, conversational, and inviting style can be heard the world over. The Born to Win website—borntowin.net—features more than 1,000 of Mr. Dart's timeless sermons and studies at any one time.