2023 Calvary Chapel Missions Conference
January 4

-

January 7

$80.00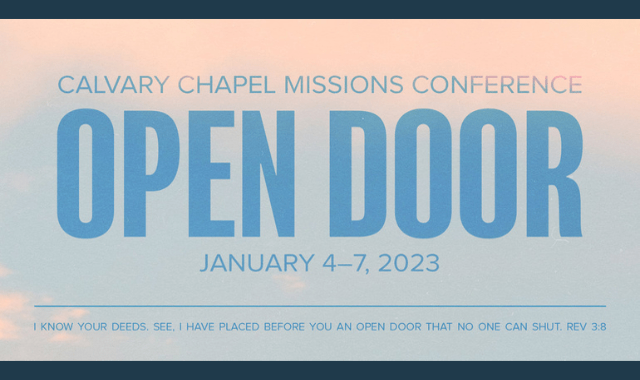 Dear Friends,
I would like to invite you to the 2023 Calvary Chapel Missions Conference on the campus of Calvary Chapel Costa Mesa.
This year, things will look a little different, as we will be kicking off the conference on Wednesday afternoon, January 4, and concluding on Saturday afternoon, January 7.
Our theme is an Open Door, taken from the letter of Jesus to the church in ancient Philadelphia. To them he said, "Behold I set before you an open door that no one can shut." As we look around at our troubled world, we see the devastation of war, the psychological effects of a worldwide pandemic, political unrest, economic instability, and a whole set of other things that have unsettled the lives of many. This unsettling has sadly led to much anxiety, but it has also produced a new openness to spiritual things in people all over the world.
We have been hearing story after story of how God is at work in places that we would never have dreamed of just a short time ago. It seems the Lord is truly opening doors no one can shut. Once again, we will gather with this threefold purpose:
Strengthening those who are presently doing the work in fields far and wide,
Encouraging supporters who remain at home to continue their support, and
Inspiring a new generation of men and women who will, in faith, step through the doors the Lord has opened.
Looking forward to all the Lord will do among us as we gather to seek his will and wisdom for the days ahead.
Blessings,
Brian Brodersen
Senior Pastor, Calvary Chapel Costa Mesa.