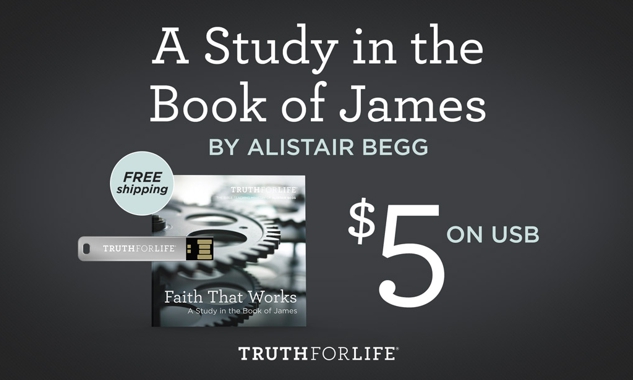 Wisdom isn't a matter of age, education, or experience. It's the product of God's Spirit at work in a life that has been transformed by the grace of God. In Volume I of this series of messages from James, Alistair Begg examines the Christian's call to live God's way in God's world. This biblical wisdom is demonstrated through patient perseverance in trials as the Christian finds joy in God's purposes. It is seen as we endure the onslaught of temptation. It is experienced as the members of the Body of Christ learn to love one another radically and with great sacrifice. Godly wisdom is a work of God Himself expressed in every aspect of our lives.
This series is available for free download.
ALL FOUR VOLUMES are available for purchase on a USB thumb drive for $5 with free shipping within the U.S.
In 2009, driven by the desire to share the good news of the Gospel without cost as a barrier, the ministry made the entire Truth For Life teaching archive free for download at truthforlife.org.
Since then, over 55 million messages have been downloaded.